Fashion is a huge thing for Bollywood celebs. There are stylists, assistant stylists and a team that is curating looks for every actor or actress. From the airport look to red carpet, a lot of time and effort goes into styling. Yet, celebrities end up looking blah and bland on some days. But then, that's life and it's perfectly okay. This week, most of the top celebs ended up in the blah category while the others kind of fared better. Here is a look at those who disappointed us sartorially.
Priyanka Chopra

The global desi girl looked smashing in most of her looks for the promotions of The Sky Is Pink. But her outing in a colour blocking wrap dress from Attico did not impress her. It looked too bland. Somehow, the hues did not look great on that fabric. Even Priyanka Chopra's makeup was unimpressive.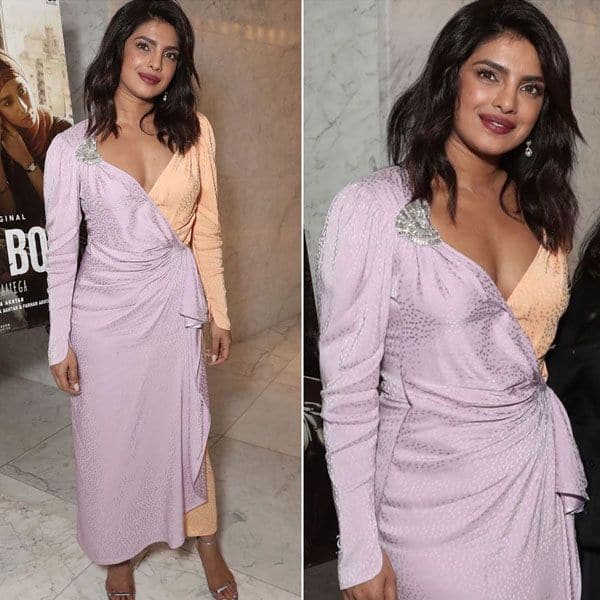 Shilpa Shetty Kundra

On the occasion of Karwa Chauth, Shilpa Shetty stepped out in a crimson saree from the label, Pallavi Jaipur. The saree had a hem like a fishtail gown with tassels in the pallu. The outfit had the typical new bride vibe but looked a tad OTT on Shilpa. While we are okay with women going all red on Karwa Chauth, we felt the saree could have looked a lot nicer with a simpler blouse.
Kriti Sanon

The leggy actress must be credited for looking good even in outfits that have done her immense disservice but this time we could not overlook her appearance in Judy Zhang. The oversized denims did not look great on her and we do not even want to discuss that white corset top.
Deepika Padukone

Deepika Padukone wore a gown from the Italian designer Giambattista Valli at MAMI. While her green gown from the designer at Cannes 2019 was the talk of the town, this look kind was blah. The blush pink and black combo did not help enhance Deepika's natural beauty and oomph.
Raveena Tandon

The actress has a svelte figure and one of the most striking faces in the industry. What is disappointing is that most of her recent looks have been about shimmer, shimmer and more shimmer teamed with bold lips. It is kinda boring now!
So, here are the celebs who left us unimpressed with their fashion outings this week. What do you feel about their choices? Let us know with your comments
Published: October 20, 2019 9:30 AM IST
| Updated: October 20, 2019 9:32 AM IST