BAKU, AZERBAIJAN – MAY 28: Unai Emery, Manager of Arsenal gives his team instructions during an Arsenal training session on the eve of the UEFA Europa League Final against Chelsea at Baku Olimpiya Stadion on May 28, 2019 in Baku, Azerbaijan. (Photo by Shaun Botterill/Getty Images)
In Thursday night's 3-0 victory over Eintracht Frankfurt, Arsenal were once again extremely vulnerable defensively. But this time, Unai Emery is to blame. Here is why.
Arsenal are not defending well. 96 shots conceded in the Premier League, the most in the division. 23 shots conceded in one half against Watford. On pace to allow more than 60 goals in a season. You do not need me to tell you that Unai Emery's side are poorly constructed defensively.
For much of the season, the goals conceded have stemmed from individual errors. Three silly penalties in three successive matches. Sokratis passing to the opposition team in his own half. Bernd Leno spilling a simple save. Many have been responsible for moments of madness.
But, in Thursday night's 3-0 victory over Eintracht Frankfurt in the opening Europa League match, in which Arsenal allowed 24 shots, an expected goals of 1.4 and were extremely fortunate to keep a clean sheet, their defensive problems did not stem from individuals making curious decisions and egregious errors. Rather, it was a structural problem.
I re-watched the match on Friday morning to get a better sense of what I thought were the tactical issues when watching it the first time around. Martin Keown and Owen Hargreaves also touched on these problems in their post-match analysis for BT Sport. It was quite plain: Arsenal were poorly organised.
Here are some examples of where the lack of organisation really became an issue:
15th minute. Arsenal looking to press Frankfurt. Look at the space that Willock and Torreira have to cover here. Far too big. One pass took all five of those players you see there out of the move. pic.twitter.com/jCFnxrlsBB

— Andrew Dowdeswell (@a_dowdeswell) September 20, 2019
In the same move, this time we can see where the backline is positioned, and yes, that is about a 15-20 yard gap between Xhaka/Torreira and the centre-halves, and no, that is not a good thing. Arsenal were structurally very poor in the first half-hour, and that is on Unai Emery pic.twitter.com/eL1kahP4I8

— Andrew Dowdeswell (@a_dowdeswell) September 20, 2019
The biggest problem was the distance that the team tried to defend. When they pressed Frankfurt high up the pitch, the backline sat too deep while the front three pushed into very advanced positions. That left the central midfield trio having to cover 40 or 50 yards. Frankfurt subsequently found it very easy to play through Arsenal, with Granit Xhaka, Lucas Torreira and Joe Willock unable to ever get close to their opponents, such was the space they had to occupy.
Similarly, once Frankfurt had broken through the press, which wasn't all difficult in the early stages, the midfield was not quick enough to adapt its position and sit in front of the back four, instead leaving big holes in between the lines that Frankfurt exploited excellently. Several of their best chances came directly from an attacker receiving the ball either side of Xhaka or behind the Arseanal midfield, turning, and then driving at the now exposed back four.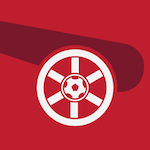 Want your voice heard? Join the Pain In The Arsenal team!
Individually, for once, the defending was not all that bad. Shkodran Mustafi played well, Torreira and Willock pressed well when they could, and only Calum Chambers really struggled to stick with his opposite number — he was maddeningly played out of position, so I have more sympathy than criticism here. The problems were structural. And that is the fault of Emery.
As head coach, it is Emery's responsibility to drill his team and ensure that they understand their individual roles within a cohesive and well-connected system. On Thursday, his team looked like a collection of decent players all doing their individual roles well but not performing as a unit, as a team.
It is, of course, still early days in this season. And to expect Emery to have whipped his players perfectly into shape six games into a campaign is a little naive. Nevertheless, if the structural errors that occured on Thursday persist throughout the season, the Gunners will struggle. They will be punished by better, more clinical teams. Emery, then, needs to fix this, and quick.